ANT2023_ANT3023_ANTM003
Year-2018/2019
Theory and Methods of Food Preservation
LibGuides: Online Library Support and Resources for your Subject

1 item

Week 1: Introduction: From Fresh to Preserved: Historical Context and Methods

6 items

In industrialised economies today, fresh produce is available year round, shipped from every corner of the globe in an uninterrupted "cold chain". But not so long ago, fresh food was rare—limited to particular local foods in particular seasons. Historically, preserved foods have been the norm. Humans have developed myriad methods for prolonging the life of foodstuffs, from drying, to salting, pickling, or fermenting. This week, we will reflect on the place of food preservation in human history. We will also consider its place in the modern world, with the resurgence of "artisan foods". We will also look at a range of preserving techniques.

Week 2: Sweet and Sour: Pickling and Preserving

11 items

Salting and pickling with vinegar or brine are practices with deep historical roots in Asia, North Africa and Europe. They have been used by many cultures in different eras as a means of preserving meat, fish and vegetables to last throughout the year, to produce flavoursome sauces and condiments, and to create products that can be easily transported and traded around the world. Preserving, by contrast, involves cooking in sugar or submersion in syrup. This is most commonly applied to fruits, but may also be done with a range of other foods. This week, we explore these products and practices, situating them in a range of social and historical contexts. In particular, we will focus on the role they have played as subsistence foods, commodities, and tools for nation or empire building.

Pickles: a global history - Jan Davison 2018

Book Read Chapter 2: Asia: Ferment and Fire, pp. 19-39; the section on Sauerkraut, pp. 84-89; and Chapter 6: From Asia to the Atlantic: Trade and Empire: pp. 102-119 (India and Britain)

Week 3: Pickling and Preserving in Practice

1 item

This week, we will have an extended practical session at St Sidwell's Community Centre, which hosts 'Waste Not Want Not'—a project that makes pickles and preserves out of surplus foods that would otherwise go to waste. Iona Collins from St Sidwell's will introduce us to the project and use that week's surplus to lead a hands-on session on chutney and jam-making. We will also hear about the basic science of preservation and learn to preserve vegetables with salt and vinegar (making dishes such as kimchi, sauerkraut and Japanese miso pickles) from Celia Plender, a cookery teacher and food writer specialising in Japanese and East Asian cuisine.

Week 4: Bread: from porridge to loaf

14 items

Bread takes many forms around the world. The word covers foods made from a wide range of grains and using different baking, drying and cooking processes whereby grains are partially broken down before consumption, aiding digestion. As such, the category 'bread' describes a huge variety of staple foods, which in many circumstances have become inextricably linked to religious, moral and ethical values. From the celebration of the Christian Eucharist to the desperation of those 'On the Breadline', bread has a place in myth, storytelling and moral imagery across numerous cultural contexts. In this class we will look at the symbolic values attached to different types of bread in a variety of historical and contemporary settings. We will pay particular attention to the current 'foodscape' of bread, from sliced supermarket loaves to sourdough bakeries, analysing the way that this food currently holds shifting and conflicting meanings for diverse groups of people.

Week 5: Bread Baking in Practice

1 item

This week, we will have another extended practical session at St Sidwell's Community Centre, where they regularly hold bread-making courses, and sell sourdough breads in their café every Wednesday. Iona Collins, St Sidwell's in-house baker, will lead us through the steps of preparing sourdough. During the day, we will learn basic, practical sourdough techniques ranging from making and refreshing a sourdough starter to shaping and baking two types of sourdough bread. We will also make sourdough crispbreads and pizza, and have the opportunity to explore the basic science behind bread making.

Week 6: Cider: Scrumpy to single varietal

9 items

Cider is fermented apple juice. This drink has filled the varied roles of alcoholic beverages in the history of human consumption: alternative to pathogenic water, preserver of the harvest, intoxicant, and marker of taste – good or bad. Within the taxonomy of alcoholic drinks, cider occupies, alongside wine, the subset of those made from fruit juice but not distilled into liquor after fermentation. Cider today is widely viewed as a rough country drink, alco-pop, or a novel alternative to beer. The burgeoning cider industry is peopled with diverse groups and individuals attempting to redefine the category in terms of craft and tradition. In this class we'll ask: what makes cider cider? Is it a matter of which apples it is made from, where they are grown, who grows them, how they are fermented, or how the entire process of production is regulated? We'll pay attention to how the answers to these questions are historically, geographically, and situationally dependent.

Week 7: Cider in Practice

1 item

Week 8: Cheese: making milk durable and portable

13 items

The consumption of liquid milk is a relatively recent phenomenon. The history of cheese is far longer. Cheesemaking separates the solid components of milk from their liquid substrate, allowing this valuable nutritional resource to be kept much longer, and carried much further. It also renders milk more digestible. Beginning in the early 20th century, industrial cheesemaking allowed for the production of cheese at much greater scale by eliminating the risk of pathogens through pasteurizing milk, but because pasteurization eliminated the indigenous microbes whose fermentation is the very basis of cheesemaking, this required the use of laboratory isolated starter cultures. Today, artisan cheesemakers savour the flavours afforded by raw milk, and celebrate the terroir of their cheese. This week, we look at the linkages between culture on a microscopic scale and the human cultural traditions associated with particular kinds of cheesemaking. We also look at the basic science of cheesemaking.

The science of cheese - Michael Tunick 2014

Book Read Chapter 1: In the Beginning: Milk, pp. 3-20; and Chapter 2: Curds and Whey: Cheesemaking, pp. 21-48

Week 9: Cheesemaking in Practice

1 item

This week we visit Quicke's Traditional Cheese, in Newton St. Cyres, where Mary Quicke makes Cheddar from the milk of her herd, grazed upon land owned by her family for five generations. We will watch as the rennet is added to the milk, as the curd forms and is cut, as the whey is drained, and as the curd is "cheddared" (stacked). We will see the curd go into forms and presses. We will then visit the stores to see and hear about the aging of the cheese. Finally, we will visit the farm shop, and have a tutored tasting of cheese.

Week 10: Charcuterie: From necessity to processing

11 items

Charcuterie can include a variety of preserved and processed parts of an animal, whether salt or air cured flesh, such as hams and salamis; organs, such as pates; blood in blood sausages and fat, such as lardo. Meat, specifically raw flesh, has been culturally associated with wealth and power. Curing meat, conversely, has been associated with necessity by preserving essential protein and fat in human diets throughout the year. Recently, there has been an increase in the popularity of cured meats as part of whole-animal butchery, nose-to-tail eating and the preservation of heritage foods. At the same time, scientific research has stated that cured, "processed" meat is directly associated with specific cancers. In this week we will look at the complex socio-historical narratives of "processing" meat with attention to the science of the curing process to understand how charcuterie is produced and how the science of curing itself is fuelling these new narratives of health risk.

Week 11: Charcuterie in Practice

1 item

This week, we visit the Rusty Pig in Ottery St. Mary, where they produce their own charcuterie from locally sourced ingredients and farms with high animal welfare standards. We will learn about animal husbandry and butchery, before turning to dry and wet curing and hot and cold smoking. Finally, we will have a chance to make sausages and to learn about salami fermentation and air curing.
All rights reserved ©
Profile Required
Reading intentions and notes are stored against your user profile. Please create a profile to use this feature.
My notes
You must be logged in to add a note
What are item notes?
You can use item notes to make personal notes on any of your reading items. Notes are private to you and will not be shown to other users.
You can review your item notes from the list, the item page or from your profile page.
---
How do I create an item note?
To make notes, first you must be logged in. Once logged in, simply click Add note? next to the list item you wish to make notes on. You can also make notes at the bottom of every item's detail page.
Your note will be saved automatically as you type.
Have you read this?
You must be logged in to set a reading intention
What are reading intentions?
Setting up reading intentions help you organise your course reading. It makes it easy to scan through your lists and keep track of progress. Here's an example of what they look like: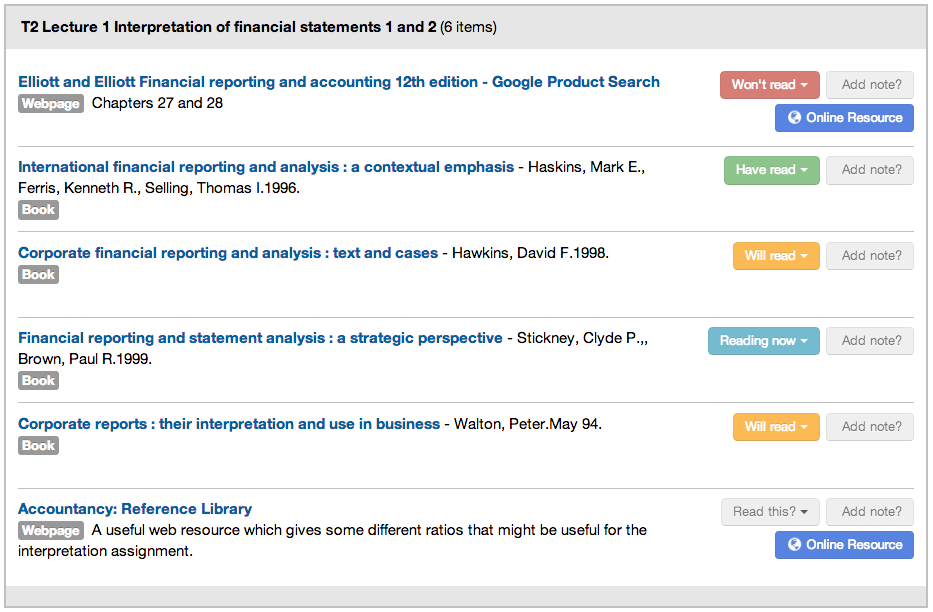 Your reading intentions are also stored in your profile for future reference.
---
How do I set a reading intention
To set a reading intention, first you must be logged in. Once logged in, click Read this? next to the list item you wish to set a reading intention for.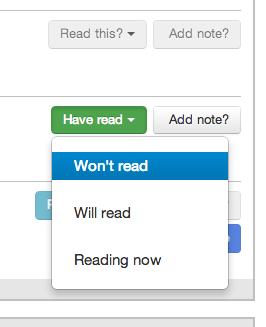 You can also set the reading intention from every item's detail page.